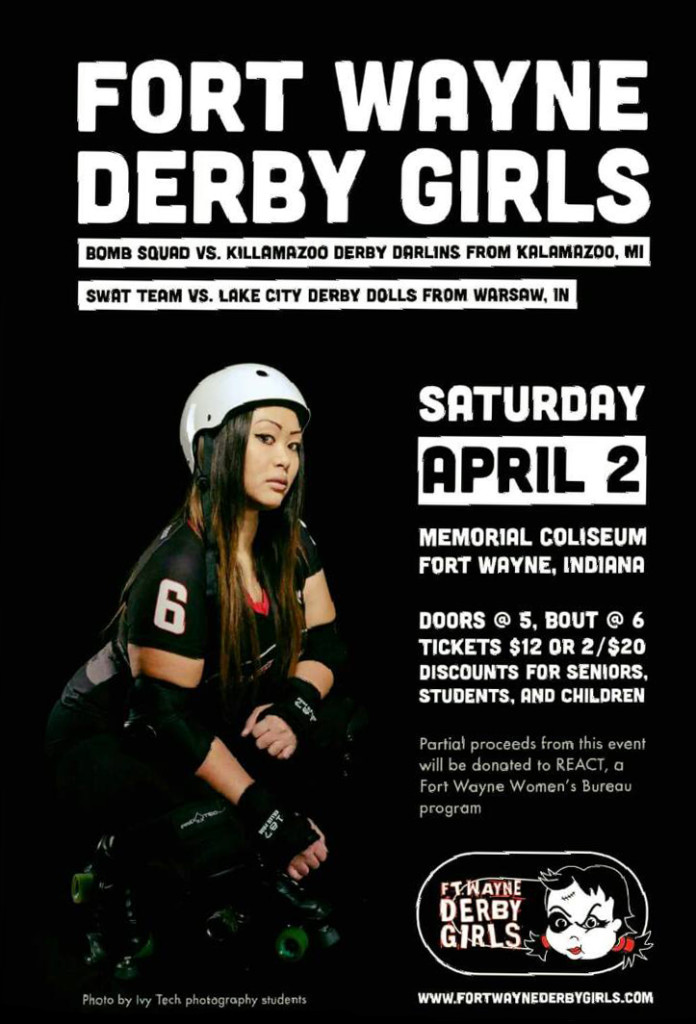 On Saturday, April 2nd, your Fort Wayne Derby Girls, currently ranked 82nd in the world, will be taking on the 83rd-ranked Killamazoo Derby Darlins of Kallamazoo, Michigan. This is their second match-up of the year, and Fort Wayne is more than ready to avenge their 1-point loss from January!
After the all-star bout, the Fort Wayne SWAT Team will take on the Lake City Derby Dolls of Warsaw, Indiana. Stick around for this exciting bout between local rivals!
Schedule:
5:00pm – Doors Open
6:00pm – Fort Wayne Bomb Squad (FWDG all-star team) vs. Killamazoo
7:30pm – Fort Wayne SWAT Team vs. Lake City

Tickets are $12 each or 2 for $20! See your local derby girl or visit the Coliseum box office to get your tickets. Group rates and discounts for kids, students, seniors, and military are available.
Partial proceeds from this bout will be donated to REACT, a Fort Wayne Women's Bureau program that strives to relieve the trauma of sexual assault through crisis intervention and counseling, and to prevent sexual assault through education and skill building.