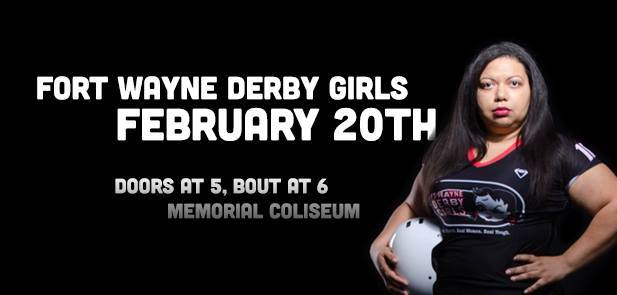 On Saturday, February 20th, your Fort Wayne Derby Girls, currently ranked 79th in the world, will be taking on the 110th-ranked Derby City Roller Girls of Louisville, Kentucky. FWDG won their first home game of the season, and they're ready to do it again!
Schedule:
5:00pm – Doors Open
6:00pm – Fort Wayne Bomb Squad (FWDG all-star team) vs. Derby City All Stars
7:30pm – Fort Wayne SWAT Team vs. Derby City Bourbon Brawlers

Individual tickets are $12 each, and are good for both games! See your local derby girl or visit the Coliseum box office to get your tickets. Group rates and specials for kids, students, seniors, and military are available.