By Caitlin 'Snack Attack' Crowley
caitlinrenee@bigcurlstudio.com
@snackattack17
Originally published in News Sentinel 5/1/2016
The Fort Wayne Derby Girls' Bomb Squad defeated the Royal City Rollergirls from Guelph, Ontario 169-128 on Saturday at the Memorial Coliseum on. Fort Wayne is ranked 86th in the world WFTDA rankings, and Royal City is placed at 93.
The score stayed tight through the beginning of the game. Both teams had strong defensive lines and continued to hold offensive skaters to low-scoring passes. Periods were very short in an attempt by teams to keep opposing skaters from scoring. Royal City held the lead through the first quarter.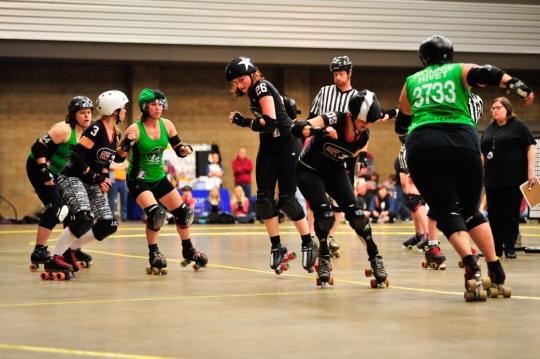 Tessa Marshall made several high scoring passes and took the lead back for Fort Wayne 15 minutes into the game. Ontario caught back up in a 10-point pass as Eloise Blurton-Jones faked around the outside to pass Fort Wayne during a power jam. Marshall entered the track after Blurton-Jones broke through a second time and overtook Blurton-Jones and forced her to call off the play. The score did not stay tied for long as Marshall scored 16 points during a power jam in the following play to give Fort Wayne a 54-37 lead.
Fort Wayne continued to increase the lead with a score of 76-47 at halftime. Heidi Orr was able to make two scoring passes during a power jam, and a third final lap before Ontario's skater could make it to the pack. Royal City's skaters began to show fatigue as halftime approached.
Fort Wayne held Royal City in the low 50s for several jams. Rachel Tension held Annalisa Rasmussen back for two laps, while Marshall scored 10 points. Rasmussen made it through the pack as Marshall was called off on a penalty, giving Royal City a power jam. Marshall re-entered the track with 21 seconds left in the period, and Leah Chester and Rachel Tension held Rasmussen back through half the track as Marshall passed. The jam went the full two minutes.
Royal City attempted a star pass in the eighth period. Active scoring position was passed to Ontario Captain, Alessandra Artuso, as Fort Wayne approached. Artuso made it through for 4 points and called the play off when Marshall caught up.
Ontario began to show even more fatigue. Fort Wayne attempted to take advantage of this by 'running the pack' and skating faster than normal. Royal City was forced to call off period 11 because they were never able to catch the pack as the Derby Girls lead grew to 131-96.
Tracie McBride took a star pass in period 12, overtaking Ontario's skater.
Royal City was almost able to close the lead in periods 13 through 17. McBride, Jolie Walker, and Leah Chester held back Annalisa Rasmussen, but she was able to break through and take lead while Marshall was still stuck in the pack. Marshall did make it out as Rasmussen approached for her first scoring lap, but Marshall fouled off the track. Rasmussen scored five points before Marshall re-entered, but both skaters made it through the pack again.
Royal City remained at 124 points while Fort Wayne increased their lead to 150 with four minutes remaining. Rasmussen broke through the pack but called off the play after being knocked out of bounds. Royal City attempted a star pass in the next play, but did not score any points.
Both teams tried to keep the opposing team from scoring any points as the end of the game neared. Both sides called off the plays as soon as they scored any points. The score was 163-124 with 46 seconds remaining. Marshall made it through the pack with a whip from McBride. Marshall was able to make a pass while Katie Pothier was stuck. Marshall called off the play after Pothier began her first scoring pass. The game ended with a final score of 169-128, Fort Wayne victory.
The second game of the evening was the B-team for both teams. Royal City took the final victory of that bout, 198-144.